The 01 Pixel Gallery

If you're a digital artist, here's a place to show your stuff. Images, words, sounds or any combination thereof are welcome. Just put your creativity online and email your link to psudo@zencomputer.com (subject heading: 01 Gallery). Include a brief artist's statement as to why your work fits within the spirit of the Zen Computer Dojo.
---
ZC Quote:
Pixels remind us that all things in this universe consist of the tiniest elements. Even a single grain of sand is made of millions of atoms. That grain of sand looks like a speck against the expanse of the cosmos-completely insignificant. Yet the infinitely big is born of the infinitely small. That speck is there: It cannot be otherwise.
When we think of all the pixels on our screen, how vast the world of a single computer looks. Then we look to the heavens and see the stars. How small our problems, our quarrels, our silly egos.
Through zen we put ourselves in the middle, perceiving both truths at once. Up close, we care about the placement of every pixel in our work, knowing the path to self-betterment lies in attention to the smallest details. Yet at the same time we remain humbled by the scale of all that surrounds us. We live knowing that we are only one among the many, and yet we are.
It cannot be otherwise.
--From Zen Computer, Chapter 6, "Pixel"
---
Kimmo Kivelä, Helsinki, Finland
Kimmo Kivelä is a graphic artist at Contrapuntal Oy and one of the early supporters of the Zen Computer concept, reading the book in its draft stages. He also translated the book Zen Guitar into the Finnish language (check out his photos in the current issue of ZG'zine). Of the image featured here, "A Crow at Seurasaari Bridge," he says, "It's mid-autumn here--dark and wet. Here is small park island with lots of animals, and at this time of year crows fit very well into the scene." Write to him at kimmo@contra.net.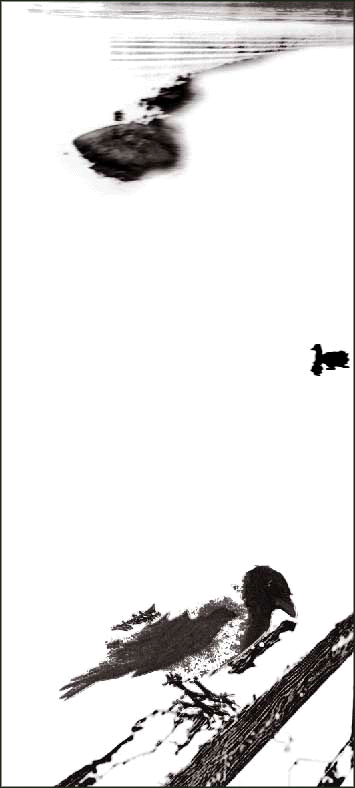 ---
Bob Kirbo (AKA Zenbob)
Haiku Series 99
Off Kilter?
Kilter, off Kilter

Achieving balance at last

How dull things appear!
Love is who you love?
Love is who you love?
Or is love that you love one
In love, that is love.
Cheating Death
We do not cheat death
Mock death and death will fight back
At last death cheats us.
Overcome
Friend, fallen angel
We best learn by example
Overcome myself.
Raven Eclipse
A raven eclipses
The moon and hides a great light
So like you, it seems.
Short Victory
Frogs sing: victory!
The rains have washed the valley
But summer returns...
---
Rik Fitch, Maui, Hawaii

"Heavy Hawaiian women laze drowsily in the ripe landscapes of Fitch's Maui Paintings. Erotic jacaranda trees, heaving with bloom, preen in upcountry pastures. Crater quilt fields of pineapple spill down the mountainside. The road to Hana Town churns through clumps of shell ginger, birds of paradise and red ti. Then there are still-life florals; hugely dripping with lush coloration, a profusion of tropical hues capturing the exotic island landscape with lushly applied oil paints that sculpt the pigment into dazzling views of Hawaiian flowers and plants." Visit his gallery at rikfitch.com.
Welcome | What's New | FAQ | Book | ZC Speaks | 01 Pixel Gallery | 24-Hour Zen |
Reading | What You Can Do | Links | Shop | E-mail